The NCAA took a major step toward restructuring its governing system for the "Power Five" conferences on Thursday.
The NCAA Board of Directors endorsed a restructuring process that would grant autonomy for the ACC, Big 12, Big Ten, Pac-12 and SEC. The NCAA believes these changes would make it "more agile to adapt to changes in the division, give student-athletes a greater voice in decision-making and provide more autonomy to the five major conferences," according to this release.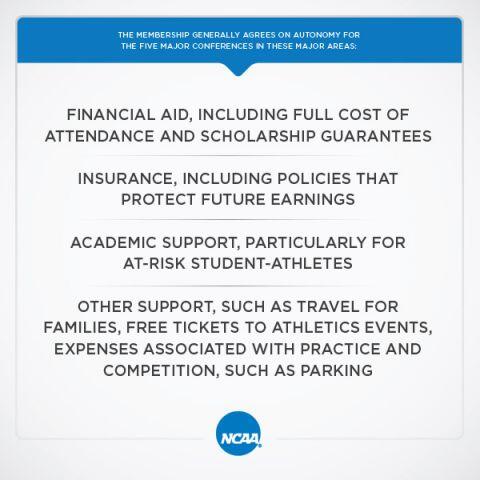 Today's endorsements does not mean immediate change. "Some aspects of the model remain under discussion, and we hope the membership will provide us further input," says Wake Forest President Nathan Hatch, chair of the board and the steering committee.
According to the release: "Under the proposal, the division would still be led by a Board of Directors composed primarily of university presidents. However, new voices would be added: the chair of the Division I Student-Athlete Advisory Committee; the chair of a new group tentatively called the Council; and the most senior Division I member of the Faculty Athletics Representatives Association's executive committee. The council chair would always be an athletics director, giving that constituency an automatic spot on the board."
A transition into a new model would begin by fall 2014, with a revamped council and board in place by the '15 NCAA Convention in January.
The NCAA's announcement comes just a day before Northwestern University's football team will cast ballots to determine whether they will form a workers union and begin demanding more rights.According to CNN and others, there is doubt whether the required majority of players will vote in favor of unionization.
Northwestern Unionization Vote:
Northwestern football players cast their votes to determine if they will unionize Friday morning. The vote by about 70 scholarship players will be watched closesly by colleges and universities across the country due to the impact it could have on the dynamics of college athletics. However, the outcome of the vote may not be known for some time.
This article was republished with permission from Dennis Van Milligen, Editor of Athletic Business. The original article can be viewed by clicking here.